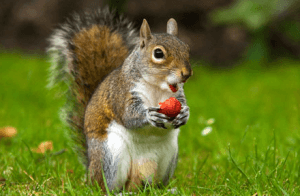 It is heartbreaking to wake up in the morning excited about harvesting your strawberries only to be disappointed as squirrels got them first. And the worst part is, squirrels will only take a bite on one and move onto the next. Before you know it, all your strawberries are gone or wasted. If you are a farmer or have been planting strawberries before, you are probably aware of the blood, sweat, and tears needed to take care of your strawberries.
Since squirrels do not know humans are exerting extra effort to take care of them, finding an unguarded strawberry field in your backyard means it's an all-you-can-eat buffet. So, try not to be so harsh in taking action against squirrels. After all, they are just doing what other creatures are doing to live; hunt for food. What you can do is, protect your strawberries from squirrels, and we have some proven and effective ways on how to do that.
Quick Overview
Preparing the bed for planting
Thinking ahead is a must if you want to protect your strawberries from squirrels and other rodents that can destroy your hard-earned harvest. When you are thinking of planting strawberries, think ahead and ask yourself, what are possible problems you could encounter with your strawberries while they grow. And what are the ways to prevent these issues from arising? There are many types of parasites you need to fight against for your strawberries, but one of the most destructive forces to reckon with are rodents like squirrels, as they can dig around the soil and rob you of your harvest.
One way to protect strawberries from squirrels is to use wooden beds for planting them. This way, squirrels won't be able to dig under the bed to reach your strawberries. You can use raised plastic beds or wooden beds available everywhere to make sure squirrels cannot dig into your plant.
Cage your strawberries
Another effective way to have your strawberries squirrel proof is to cage them. You can go all the way by installing a complex removable netting, or if you only have a patch of strawberry field, you can buy some of those hoop frames and chicken wires and assemble it yourself. Note that squirrels may still reach out for your strawberries, so make sure your bed is as far enough from the netting as possible. Also, squirrels can gnaw nettings, so make sure that the wire you are going to use is sturdy.
Mask your strawberries scent
Squirrels have a great sense of smell. They can smell food from a long distance. Since strawberries are one of the fruits that squirrels love to snack on, they will smell it eventually. After all, strawberries, when ripe, smell divine. If it is mouthwatering humans, what more for squirrels? To deter squirrels from visiting your strawberry fields, you can try masking their scent.
Using garlic as a squirrel repellant
Garlic has a strong odor and can be used against squirrels as they hate the smell. You can mince a clove of garlic and boil it with a cup of water. Let it cool down and strain. Water your strawberry fields and spray them with garlic water. The smell of garlic will deter the squirrels from trying to get into your strawberries.
Peppers
Another strong deterrent is pepper. There are many types of pepper that squirrels hate. The most common ones are black, white, and cayenne peppers. Some farmers sprinkle cayenne pepper powder into their strawberries and around them to deter squirrels.
Peppermint spray
Squirrels also hate peppermints. Coincidentally, so are other rodents, insects, and birds. Peppermint oil is a powerful organic compound used to deter unwanted creatures. It is one of the best ways to protect strawberries from squirrels and other pests that may be interested in your harvest.
Remove tree branches
Squirrels are known to have the ability to dig in the soil, gnaw on woods and sometimes thin metals, and climbing trees. If you have strawberry fields in your backyard, you might want to remove the branches of trees overlying your backyard. Removing branches of trees will further prevent squirrels from stealing your strawberries. If you remove tree branches in your backyard, squirrels will have no way to enter your turf and snatch those juicy treats for themselves.
Clean your backyard
Squirrel is a rodent family member. Aside from fruits and berries, they also scavenge for foods, just like their cousins; rats and mice. Removing other food sources like bird feeds and securing the trash lids so rodents cannot get inside is another way to protect strawberries from squirrels. When another food source is gone, they will not linger in your backyard for much longer and, in turn, prevent them from possibly discovering your strawberry plant.
Be consistent
Protecting your strawberries is not just at the start or the end. You cannot be diligent in protecting your plants just at the beginning and expect great results. Consistency is the key to making sure squirrels do not get into your strawberries. Visit your strawberries every day. Re-treat them with repellant from time to time, especially after it rains, as rain washes out the scent of peppermint oils, garlic, and pepper from your strawberries. Check for a possible tear in your nettings and replace them if necessary.
Trapping Squirrels
There are times wherein squirrels may force our hands to do what we do not want to do. However, most people think it is the squirrels or them. Only in the direst of situations should you trap squirrels. Most states allow hunting and killing red and gray squirrels for food, but you still need to get a permit to do that. Also, trapping and releasing squirrels somewhere else is frowned upon and against the law in most states in the US. Before doing anything, consider contacting your local authorities to check your laws regarding squirrels.