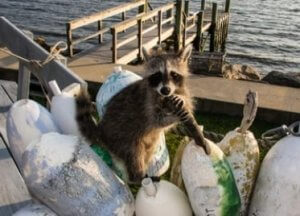 Raccoons may look cute to some people, but they could be a problem for other people with boats when they start living there. Just like how the old folks usually say, prevention is better than cure. Raccoons appear to have more problems than advantages. While they can help control other pests, they are extremely dangerous to humans and usually cause destruction and damages to properties. Their negatives far outweigh the small number of benefits they have. And just like every other problem, we need to know raccoons first to plan an effective way to keep raccoons out of the boat.
Overview
What are raccoons; are they dangerous?
Raccoons are furry mammals with bushy tails and a black fur mask covering their eyes. With body lengths ranging from 40 to 70 cm and weights ranging from 5 to 26 kg, the raccoon is an enormous member of the procyonid family. The agility of its paws resembles that of human hands, allowing the raccoon to perform different jobs. They can be found almost anywhere in North America due to their wide range of food preferences, and they eat almost anything. Frogs and other fish from streams and ponds, fruits and vegetables from gardens and farms, and even scraps from garbage cans may also feed them. Raccoons also catch their food in water in the natural environment. They also eat mice and insects from hiding spots on land and raid nests for edible eggs.
Raccoons usually prefer to be alone, especially male raccoons. But a mother raccoon and her young ones often stay together for a while longer. That is why they are often spotted sleeping together in their dens. They are usually not hostile toward humans, but if cornered, injured, or the baby raccoons are in danger, the mother raccoon may become dangerous. They carry a variety of bacterial infections or diseases and parasites that can be transmitted to humans by a bite or ingestion of raccoon excrement. That is why people should be wary of these animals and be careful when dealing with them.
Where do raccoons typically live?
Raccoons usually prefer to live near bodies of water and in locations with plenty of trees to be used as dens. Therefore, they change their den regularly, occasionally moving on to a new shelter where they can find tranquility, a place to sleep, and of course, food. Raccoons are very adaptive and, in turn, can survive in most climates. They usually build dens in trees, but sometimes, they also make dens in abandoned vehicles, barns, and other human-made places. The first two months or so of a raccoon's life are often spent high in a tree hole. Then, when the cubs begin to explore, their mother and offspring migrate to the ground or other places.
What damages can raccoons cause to the boats?
Many boat owners want to get rid of raccoons because they usually chew some wires, wood under the deck, piss off and urinate, and gnaw whatever is in the boat. These things cause problems, money, and stress to the people. Those are why raccoons are often getting rid of by boat owners. When crafts get damaged, it will surely cost you some money for them to fix them.
What good do raccoons do in our environment?
Although raccoons can cause a lot of damage to different things and may cause harm to humans, they play a significant role in the ecosystem. Raccoons help in maintaining the balance of the ecosystem. They help in distributing seeds when they are moving from place to place. They also clean up dead animal bodies like the vultures. They also help in protecting the bees. Bees are considered good pollinators and also contribute a lot to the environment. Their flexible diet also helps control the number of parasitic species in the ecosystem because raccoons are not hesitant to feed on them. Raccoons also contribute to the renewal of soil that can also help the environment. They also prey on other predators so, that makes the food chain balanced and healthy.
Preventive measures to keep raccoons out
Clean the boat and make sure that there is no garbage left so raccoons cannot find anything they eat there. Next, block their entrance to your boat. Having something to cover the whole craft itself will hugely help to prevent raccoons from sneaking inside. Using homemade or chemical repellents may also fend off these critters. Electric fencing may also help restrict the raccoons from getting closer to the boats and house backyards.
Effective ways to keep raccoons out of the boat
If the preventive measures above did not work and the raccoons still found their way to hide inside the boats, here are some methods to keep raccoons away from boats.
Mothballs
You may try using mothballs. Using mothballs is one of the most commonly used ways to help in pest management because pests like raccoons do not like the unpleasant odor of mothballs, so they usually leave the place after some time of smelling it.
Strong Smell
Raccoons also do not like the scent of onions, hot pepper, garlic, and other things with a strong smell, so these can also be placed in different parts of the boat to keep them away. You may also use cotton balls immersed in peppermint essential oil.
Traps
Another way is to start using traps but make sure that the traps are in places wherein these can be removed easily after catching raccoons because it will still be a hassle to have dead raccoons inside your boat.
Sound
Using the radio for quite a long time also keeps raccoons out because they prefer staying in quiet places, so the sound of the radio may annoy them.
Poisoning
Poisoning raccoons are also another way; however, you need to check if this is allowed with your local government. If they are hard to exterminate or keep the raccoons out of the boat, it is better to call the experts in pest control and let them handle the raccoons.
Facebook Notice for EU! You need to login to view and post FB Comments!