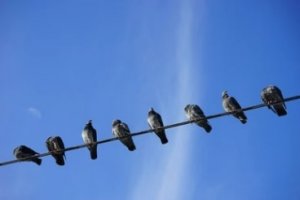 You may think birds sitting on power lines is an everyday occurrence. You are right. Birds love to sit in power lines and overhead cables from posts going to your house because it gives them specific advantages like looking out for predators and searching for food and shelter or things to use to build their nests. However, birds sitting on overhead cables and power lines could be dangerous to you and the birds. But the good thing is you can prevent birds from sitting on overhead cables with some DIY methods and will not cause you much.
Overview
Why do birds love to sit in power lines and overhead cables?
The answer is simple. Birds get to see the complete, unobstructed view of their surroundings. As part of the wild, birds are constantly looking for shelter and food. Smaller birds are also always on the lookout for predators. Sitting in an overhead cable or power line will allow them to scourge the area for these things since it is high enough. Not to mention they will be able to rest while scanning the surroundings.
Why can birds sit safely in power lines?
You may have wondered why birds can sit on cables and power lines without getting shocked. That is because electricity will always look for a way to get into the ground. Since birds have both their feet touch the same power line or cable, electricity will pass through them.
However, if in case a bird touches two cables at once, it will be electrocuted. The same goes when a bird's body reaches a tree and a power line at once. The bird will get electrocuted, and the tree may catch fire in the process.
Dangers of birds sitting on overhead cables
Birds may get electrocuted on overhead cables and power lines. But aside from that, there are also many potential risks and dangers associated with birds sitting on power lines.
Bird Bombs
Birds do not care where they do their business. They also do not inform you when they are about to drop their bombs. And if many birds are sitting on an overhead cable, you will have a very smelly driveway afterward. That is not a pretty sight and a pain to clean as well.
Damage to poles
In the case of some birds like the woodpeckers, birds can do unavoidable damage to electric poles and even use them as nests. Imagine if there are a lot of birds pecking on posts. If you are unlucky, it will weaken the foundation and cause an accident on the road or at your house.
Fire
Birds may get electrocuted when it touches both a tree and the overhead cable at the same time. And in turn, the tree could catch fire. It will be a danger to the bird and you and your house if this happens.
Power outage
If birds get electrocuted, it may also result in power outages not only in your house but your whole area. Birds getting electrocuted is not common, but it happens, especially if multiple cables are hanging overhead.
Aside from the dangers birds poses, they make loud shrieking noises that could wake you up in the middle of the night. It isn't enjoyable. Good thing you can prevent birds from sitting on your overhead cable using some methods below.
So how do you keep birds from sitting on overhead cables?
Tricking the birds
Birds are on the lookout for predators. Some of their natural predators are owls. If you don't want birds to perch on an overhead cable to your house, try installing a plastic owl in your backyard or, better yet, on your rooftop. Birds will see this and will fly away as soon as it lands.
Fake snakes, hawks, and eagles are also good decoys. But birds will eventually know that they are not real if you do not move them from time to time. Therefore, it is best to install a sound deterrent along with the visuals to trick birds. There are a lot of products out in the market that has both sound and visuals. These products scare birds away from your property.
You may also place a reflective tape or a broken disc near the overhead cable going to your house. The reflection from the damaged disc or reflective tape acts as a bird repellent. However, the repellent could also be an eyesore for you, especially when the sun is out.
Use Sound
Aside from installing an owl on top of your roof, you can also add sound that matches it. Birds will eventually get used to your visual and try to get close to it to see if it moves. If you install a hooting owl's sound, it may further deter birds from getting too close.
Remove feeders and birdhouses.
Birds are attracted to your surroundings for some reason. And most of the time, they are attracted to what you can offer them, shelter and food. If there are no birdhouses, nests, or food, they will go somewhere else to find what they need to survive.
If you feel like removing the bird feeder and birdhouses is a little too harsh, you may relocate them to somewhere far from your overhead cables. Preferrable somewhere you think birds will not be a nuisance to you or your neighbors.
Call your local experts.
If there are many birds in the power line or overhead cable, call animal control. Birds are part of the wild, and thus, they are protected. You cannot kill or harm birds as it is against the law. If you see an odd number of birds in your area, call the authority to help control it.
Yes, birds can be a nuisance, but they are part of our ecosystem that needs shelter and food. There are many do-it-yourself methods and devices to scare off birds from your property and overhead cables. And the good thing about these methods is it is cheap and will not harm birds.