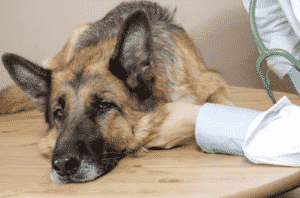 Toxoplasmosis is an exceptionally infectious disease that is typical in cats. The condition is because of a single-cell parasite called Toxoplasma Gondii or Toxoplasma Gondii for short. Although cats are the primary carrier, the parasite can infect any warm-blooded animals and humans. And if not treated, the parasite can live inside the body as long as you live as well.
Luckily, there are treatments for Toxoplasmosis for you and your pet dog. Otherwise, it could lead to severe complications if you have a weak immune system. Treatment for Toxoplasmosis can only be effective if you know what it is. Knowing what is causing Toxoplasmosis also prevents the infection from spreading and prevents it from happening again.
Overview
Lifecycle of Toxoplasmosis or Toxoplasma Gondii
Gondii is a single-cell parasite that can infect any warm-blooded animal, including dogs and humans. Although the parasite is common in cats, it doesn't mean that dogs cannot get infected. Dogs are one of Toxoplasma Gondii's alternative hosts.
In cats, once the parasite enters the host, it will localize itself to muscle tissues. Within ten days, it will reach its adult life and begin cloning itself and multiply. The cloned Toxoplasma Gondii will spread throughout its body. Once the adult Toxoplasma Gondii reaches adulthood, it will also start shedding the cyst and release it via the cat's feces.
The released cyst will contaminate whatever it touches, like soil and water, within five days. Once warm-blooded animals ingest the cyst, the parasite will begin its infection.
How do dogs get infected with Toxoplasmosis or Toxoplasma Gondii?
Dogs can get infected with Toxoplasmosis directly or indirectly. Here are some of the most common ways on how dogs can get infected by Toxoplasmosis.
Cat's Feces
The most direct way is if the dog eats the cat's feces contaminated by the Toxoplasma Gondii parasite. If you have both a dog and a cat at home, make sure to dispose of their feces immediately. Also, wear gloves and wash your hands with soap and water after disposing of them.
Drinking Contaminated Water
The cyst of Toxoplasma Gondii can live weeks in the environment after it is released. So if your dog drinks the contaminated water, it will get infected by Toxoplasmosis.
Ingesting soil contaminated by Toxoplasmosis or Toxoplasma Gondii
Another way to get the infection is by ingesting soil contaminated by the parasite via the cat's feces.
Eating Raw Meat
Although chasing birds and rats has been a favorite pastime for cats, it doesn't mean dogs don't enjoy this game. Unfortunately, if the dog bites into the meat of a contaminated rodent, it will get infected.
Signs and Symptoms of Toxoplasmosis or Toxoplasma Gondii in Dogs
Symptoms of Toxoplasmosis will depend on where the parasites choose to embed. There are also severe cases of Toxoplasmosis that need immediate attention. Here are the common symptoms of Toxoplasmosis in dogs. Any combination of the symptoms can be a sign of Toxoplasmosis.
Fever
Weakness
Cough
Diarrhea
Vomiting
Loss of Appetite
Eye inflammation or infection
Tremors
Paralysis
There are many other signs of Toxoplasmosis in dogs, but these are the most common ones. The parasite typically attacks the neurological tissue and muscle tissues of the dogs, making them weak. However, not because your dog has these signs doesn't mean they already have Toxoplasmosis in their system. These symptoms can also be symptoms of other dog parasites.
Series of tests are needed to determine that it is Toxoplasmosis. The treatment is pretty much straightforward for Toxoplasmosis. But make sure to follow the doctor's order to a T.
Treatment of Toxoplasmosis or Toxoplasma Gondii in Dogs
Dogs are considered energetic and robust animals. Their immune system is enough to clear the infection most of the time. However, some still need medical attention. In most cases, vets will prescribe antibiotics, but the dog's immune system will help clear the parasite. In severe cases, though, the dog will need anticonvulsants and IV drip. A trip to a hospital is in order.
How to prevent Toxoplasmosis or Toxoplasma Gondii in dogs?
If you do not have a cat at home, your dog likely got infected by eating raw meats or drinking contaminated water. To prevent your dog from getting infected, you must stop your dog from chasing rats, birds, or other rodents that could already be infected. For dog owners that feed their dog's raw meats, try freezing it for a few days. Or make sure that you are getting treated meat. For vegetables and fruits, wash them properly before feeding.
If you have cats at home, make sure that the litter box is clean every time. Once your cat drops its litter, dispose of it immediately. The Toxoplasma Gondii cyst can take up to 5 days for it to be able to infect. So, it would be best to dispose of cat litter immediately since the infection can spread because of it.
Can Toxoplasmosis or Toxoplasma Gondii get transmitted from dogs to humans?
Toxoplasmosis is zoonotic, which means the disease gets transmitted from animals to humans. However, dogs are not the primary carrier of the disease. And although the parasite can reach adulthood in the dog's body, Toxoplasma Gondii cannot shed cysts.
However, you can also get infected by eating raw meats or garden vegetables and fruits not washed properly. Another possible reason you can get infected by Toxoplasmosis is by not washing your hands properly after gardening or disposing of cat litters.
Toxoplasmosis in humans can be life-threatening, especially if you have other existing diseases like AIDS or HIV. In addition, as the parasite attack brain and muscle cells, it could also lead to blindness or encephalitis.
Can Toxoplasmosis or Toxoplasma Gondii get transmitted from dogs to other animals?
As dogs do not shed cysts of Toxoplasma Gondii other animals will not be infected. But it would be best to have all your pets diagnosed and treated for Toxoplasmosis as well. The infection is zoonotic and can spread fast, especially if you have cats at home. Talk to your doctor about the best treatment for your animals.
Toxoplasmosis is scary since it can also infect humans. But with proper knowledge, we can beat the infection and live a happy life with our pets.