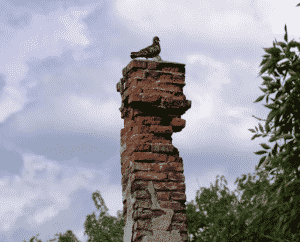 Seeing birds build their nests in trees is one thing. But seeing birds build their nests inside your chimney or roof is another. Not only the chirping of little birds can wake you up in the middle of the night, birds and their nest can also create more significant problems for you.
There are many risks involving keeping a bird's nest in your roof and chimney. But the law protects birds; you cannot harm them or even move their nest if you find one inside. So you need to make sure your chimney and roof are bird-proof to discourage birds from getting a little cozy in your property.
Overview
Why do you need to bird-proof your chimney and roof?
Birds can cause tons of problems for you. Not just for your health but also for your house as well. If you are not yet convinced, here are some of the reasons you need to make sure birds do not nest in your roof and chimney.
Health Issue
Birds can carry parasites and bacteria that could seriously affect your health and those around you. In addition, birds live in the wild and could be carriers of tons of diseases that could potentially harm people.
Fire
Bird nests can easily catch fire. For example, if birds found your chimney too cozy and decided to stay, their nest could catch fire. Likewise, birds nest in your roof can also catch fire.
Bird droppings
I'm sure you would agree that the sight of bird droppings dripping at the sides of your roof when you look up is very unsightly. They are not very discreet in doing their business. Bird droppings are also an invitation for other insects to make their presence known.
Damage to structures
Birds will make sure that they are cozy with their place. And your roofing materials may suffer in the hands, or should I say beak, of these birds. They will remove any materials they think is a drawback in making a lovely little nest of their own. And remember that bird droppings? It contains acid that could degrade your roof.
Blocked Gutters
Nest materials are lightweight and wash out easily. And the same materials will clog your gutters. If you have blocked drains, it will create a new set of problems during and after the rain. During the shower, water may go to a different section of the roof and cause water leaks. After the rain, mosquitoes can use the accumulated water to lay and breed eggs.
There are many laws concerning wildlife, including birds. And as much as you would like to take down the bird nests or forcefully drag them out of your house, you cannot just do so. And that is why it is crucial to have a bird-proof roof and chimneys instead. So you do not have to deal with the bird problems, and your house is safe from danger and bird bombs.
What to do
There are many ways on how to stop birds from nesting in your roof and chimneys. Some may sound silly, but they are effective nonetheless, and birds will not be able to build their nests into your property.
Chimney Caps
Chimney caps are handy not only to stop the rain from entering your house through your chimneys. It is also effective against birds. Since it has a protective mesh netting, birds and other stray animals cannot get into your chimney. But installing chimney caps could also making fire difficult as oxygen in the air may not be enough to sustain it. If you lit a fire in your chimney and it dies after a few minutes, even if the logs you use are dried, you need to clean your chimney of sot build up.
Bird Spikes
You may cringe at the name, but bird spikes are not harmful to birds. But they provide discomfort and difficulty of flying and landing to an area. Once birds see that you have bird spikes in your roof, they will think twice before settling in. But the problem with bird spikes is that it is rather unpleasant to look at when looking at your top. It would help if you also cleaned it from time to time to collect bird feathers and bird droppings. Now, you don't want to leave those horrors out there, would you?
Anti-bird wires
Anti-bird wires work as bird spikes do. However, they are protruding wires that could injure or decapacitate a bird. In addition, since you cannot see anti-bird wires from afar, birds could fly directly to it and realize too late that they are there. Therefore, in many areas, birders and animal lovers frown upon using anti-bird wires.
Statue
Another method to stop birds from nesting in your roof and chimney is installing an owl or cat statue. Owls and cats are natural predators that eat birds. And birds are always on the lookout for possible things that could kill them. However, the problem with statues is that said birds are already frequenting the area and realize that the figures are not moving. Once they realize this, birds will land on your roof, and it is game over.
Removing bird feeders and birdhouses
Birds choose to settle on your roof because of convenience. Not only will your roof shelter them, but most of the time, a food source is near. If you have bird feeders or birdhouses, remove them. Since your property is not bird-friendly anymore, birds will leave your property alone and search for a greener pasture.
Bird repellent gels
One thing that shocked me the most was the use of bird-repellent gels. They are a sticky substance that birds dislike. The idea is to coat birds with the gel to cause discomfort. And since they cannot freely move with it, birds will avoid landing on your property again. The gel is effective, but reapplying it now and then could make you think twice before using it though.
Other bird deterrents
If you search bird deterrents in Amazon, you will come up with tons of search results. From those sparkly reflective mirrors to a sound system that hoots owls. Some may prove effective, and some are not. However, for best results, you may want to use a combination of some of them.