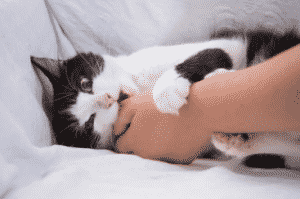 Cats are domesticated animals that always have a place in our hearts. They are comparable to dogs in that way, only they are cuddly, soft, and also compassionate. Admit it; cats have won you over when they start purring and rub their smooth body on you. We view cats as adorable and intelligent creatures, but did you know that they can be mean at times?
Cats also tend to fight back when they are spooked or feel threatened. And a lot of these cases, humans end up getting cat scratches and bites. Although cat bites and scratches are not that big compared to a dog's, they can still lead to severe infection and sometimes even death. Children ages four to twelve years old are more prone to cat bites. If you have a cat or live with one, here are the possible diseases, cures, and five things you should do if bitten by a cat.
Quick Overview
Illness, infections, and rabies
Cats are cute, but they do bite at times. And cat bites can lead to complications and illnesses from the bacteria that they have. So here are some possible diseases that you could get from even a lick from your furry friends.
The cat-scratch disease (CSD)
CSD is a bacterial infection, and about 40% of the cat's population has the bacteria that cause CSD. Fleas have these bacteria, and through them, cats get infected. If your cat has fleas, your cat is likely to also have them from biting and scratching the fleas. Cat claws and mouth will get infected, and if your cat scratch or bite you and the skin break, you can get it as well. Symptoms of CSD differ from one person to another, but the most common ones are fever, chills, and enlarge lymph nodes. There are rare cases of serious complications that affect the brain, the heart, and even the eyes. These rare cases of CSD require hospitalization.
Rabies
Rabies virus is a fatal viral disease common in dogs and cats. Although domesticated cats received vaccines for rabies, you might still get infected if it's a stray cat that bit you. More reported rabid cats in the US than dogs because there are more stray cats than dogs in the US.
Rabies have almost 100% fatalities once symptoms show. There are two stages of rabies. In the first stage, fever, headache, and joint pains are present. In the second stage, foaming in the mouth, insanity, and aversion to light and water are the symptoms before the person dies.
Tetanus
Tetanus is common to animal and human bites. For example, if a cat bit you, you may have tetanus. Tetanus is a bacterial infection that could cause joint and muscle pains, cramping in the stomach region, and lockjaw. The symptoms of tetanus may show between three to twenty days from the day a cat bit you.
It is essential to know the five things to do if bitten by a cat to prevent severe illnesses like those mentioned above.
Wash the wound area
If bitten by a cat, it is vital to wash the area with warm water and soap, but do not scrub it. Instead, gently pat a soap in the wound area and thoroughly rinse with warm water. It is best to use antibacterial soap in the wound area to remove all possible bacteria that could further infect it. Unlike dog bites, cat bites are small and are usually just two minor puncture wounds.
Apply an antibacterial cream.
Applying an antibacterial cream to the wound area after washing will remove any lingering traces of bacteria that could cause cat-scratch disease and tetanus. Antibacterial cream can be bought over the counter and does not need a prescription. After applying, dress the wound with a bandage or clean cloth to avoid exposure to other elements.
Go to the nearest hospital.
If a cat bit you, go to the nearest hospital for medical treatment within 8 hours after the incident happens. Cat bite may be small, but it is still dangerous. In the US, there are more than 400,000 cat bites each year. And rabies cases are much higher from cat bites than dogs because people are more afraid of dog bites than cat bites.
Observe your wound within two weeks or until it completely healed. Always clean the wound area with soap and water. Apply antibacterial cream and wrap fresh bandage every few days. If you see foreign elements in your wounds like liquid or pus, consult your doctor about it.
Observe the cat
You will notice changes in the cat if it is a carrier of the rabies virus. Symptoms usually appear in cats after a few days to two weeks after it bites. If you are the cat owner and your cat's vaccine is complete, you are safe. But it would be better to observe the cat for any behavior changes like aversion to sunlight and water, irritable and foaming mouth.
Try catching the cat so that you can observe it afterward. But if you cannot do it, it would be best to get rabies shot to prevent the rabies virus from getting to you. Your doctor will ask you questions regarding the cat that bit you, and you need to be honest in your answers.
Get a Tetanus Toxoid Vaccine
While tetanus is a bacterial infection common to animal bites, the tetanus toxoid vaccine prevents the bacteria from manifesting its symptoms. Depending on the age, tetanus toxoid can be administered every five to ten years. If you are not aware or do not recall when your last tetanus toxoid vaccine was, your doctor may recommend getting a shot.
Yes, cat bites are serious, and one should not take them lightly. However, if you know what to do during a cat bite, you are safe from getting severe complications.