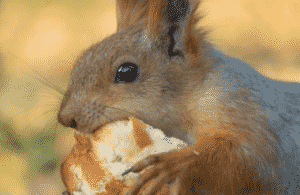 In the US, squirrels are everywhere. Depending on your view, squirrels can be labeled as pets or as pests. They are cute little creatures with furry bodies and tails. Squirrels are harmless and not aggressive, but they can use their only arsenal available; their teeth.
A squirrel bite is more painful than that of a rat. Why? Squirrel's teeth are much bigger than rat's because their teeth do not stop growing. They use to gnaw into wood, cables, and wires. They need to bite into an object from time to time to reduce the size of their teeth. It is remarkable, really, but not until a squirrel bit into your fingers. Squirrels pack a mean punch. I mean bite! They have strong front teeth to chew and gnaw on woods, cables, and even metal wires. And yes, squirrel teeth are also sharp. So, if they bite, which is very painful, by the way, they usually pierce the skin and bleed.
Quick Overview
Squirrel bite: Is it dangerous?
Squirrel bites do not contain venom as a snake does. But it could still be a cause of concern because of the bacteria and other diseases they could carry. So, let's take a look at some of them.
Rabies
Squirrels may carry rabies. There are speculations that squirrels do not carry rabies as if they get bitten by a dog or a cat, they will die before they can bite humans. But rabies is transmitted through saliva. So, if a squirrel has eaten a leftover meal of an animal with rabies, it can get rabies. Although rare, it can still happen.
Rabies is a deadly viral infection that affects your nervous system and the brain. If not given treatment at an early sign of rabies, it is almost 100% fatal. Symptoms of rabies include foaming mouth, aversion to sunlight and water, hallucination, and insanity. Not a pretty way to go.
Tetanus
Mammals are carriers of this bacteria. You can get infected by the tetanus bacteria if you get bitten by an animal or another human. Tetanus is a bacterial infection that causes muscle cramps and jaw locks, muscle and chest pain, fever, chills. Tetanus infection is a more common infection in animal bites than rabies. Rabies may be fatal, but tetanus infection is pretty scary too.
Other bacteria that squirrels carry
Aside from rabies and tetanus, squirrels also may carry other bacteria such as salmonella and Tularemia. In addition, as squirrels are also a type of rodent, they are also carriers of leptospirosis. Squirrels may be small and can even be considered as cute, but knowing they carry these illnesses will make you think twice before cornering them to the point that they will bite.
What should you do if a squirrel bit you? Let's find out below.
Wash with warm water and soap
The first thing you need to do is if a squirrel bit, you wash the wound and the area around it with warm water and soap. It would be best if you did this to dislodge any bacteria that might have stick to your skin when the squirrel bit you. But do not scrub the open wound as it can irritate your injury as well. Some people find using a liquid antibacterial soap is better than using bar soap to wash. But if liquid soap is not available, a bar soap will do.
Use antibacterial cream and bandage.
Since we cannot see bacteria with a naked eye, one way to protect yourself from infection due to bacteria is by using antibacterial cream. However, as you will not take it orally, it is classified as over-the-counter medicine or medicines that do not need a prescription.
After applying, wrap the wound with a gauze or bandage. If none is available, you may also tear old, clean cloth to use as a bandage. Covering your injury will add a layer of protection to your injury. It helps the antibacterial cream stay on the wound and prevents outside elements like dirt from getting into your wound. Your damage may be slight, but it may get still get infected.
Go to the nearest hospital.
Once you have administered first aid, go to the nearest hospital to treat your wound. Animal bites are considered an emergency, and you may go directly to the emergency room for treatment. Since squirrels do not have vaccines, unlike cats and dogs, doctors may run series of tests on you to determine if it needed additional medication. Treatment may vary depending on your health and age.
Observe yourself
Although squirrels are smaller than dogs or cats and rarely cause an infection or rabies, it could still happen. Rarely mean anything. For that reason alone, it is best to observe yourself within two or three weeks after the incident to make sure you did not develop any complications from the bite. Ask your doctor if you need to take the rabies vaccine and tetanus toxoid to counter the infection. Tetanus toxoid vaccine has a potency of five to ten years. If you do not remember when was your last shot, your doctor may ask you to get the vaccine or booster for countermeasure.
Within three weeks, observe yourself if you feel any of the following:
Fever
Muscle Pains
Joint Paints
Aversion to lights, sound, or water
Lock Jaw
Chills
Pus or liquid oozing out of your open wound
Inflammation of lymph nodes
If you have these symptoms, seek medical advice immediately. Symptoms of rabies or tetanus usually appear within three to 14 days.
Clean your wound and replace the bandage
Within the observation period of three weeks, you must always clean your wound and replace bandages every other day. Sometimes, infection occurs if you did not get a fresh wrap. Apply antibacterial cream before returning the wrapper.
Not all things are what it seems. For example, squirrel bites may be small and are easy to forget about after the initial sting. But if not treated as soon as possible, it may just end your life or one of your loved ones.