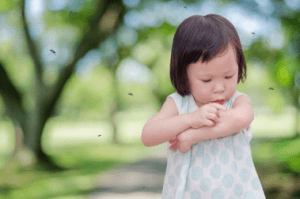 Mosquitoes are one of the many underrated insects out there. But just because they cannot do any physical damage to our home and plants does not mean they cannot do anything to us. Sure, they only bite once or twice a day, no big deal. Wrong!
Mosquitoes carry deadly viruses that killed many lives all over the world. One bite from a mosquito that carries diseases can cost you your life. Some of the viruses they transmit include the Zika virus, West Nile virus, Chikungunya virus, dengue, and malaria. But using the seven tricks below, you can keep mosquitoes away for good.
Quick Overview
Search and destroy Mosquitos
Mosquitoes lay eggs in stagnant water. To make sure they do not lay eggs and reproduce in your backyard, you need to search for things that have stagnant water on them.
Gutters
The first thing to do is to check the gutter. A rain gutter is very effective only if the water is flowing. But sometimes, dead leaves clog the drainage causing rainwater to collect. Mosquitoes love this setting as it gives them the freedom to lay eggs and rest in the stagnant water. Remove dead leaves and make sure that your gutter is clog-free, especially during rainy days.
Buckets and planter boxes
If you have a garden and have empty planter boxes, turn them over. The same goes with buckets, especially after it rains as it collects rainwater and mosquitoes can lay their eggs on them.
Other things
Many things can collect rainwater that mosquitoes can use to lay eggs. Typically, anything that is concave can store water like discarded bottle caps. Remove the water and throw them away in trash cans.
Mosquitos in Grass and Plants
Mosquitoes love the rain. They love hanging out in tall grass and leaves as it is cool and damp. Mosquitoes can also lay their eggs on the leaves as long as the leaves have collected water. Make sure to mow your lawn regularly. After it rains, visit your garden and discard any collected raindrops on the leaves.
Mosquito hate Peppermint Oil
Peppermint oil has many uses. Not only it smells good to humans, but it also repels animals and insects like mosquitoes. The best part is, peppermint oil is available anywhere that you can grab a bottle anytime. It is cheap and super effective.
Add mosquito repellent plants to your garden.
Plants like citronella, lavender, lemongrass, oregano, rosemary, and basil are proven to repel mosquitoes. Adding them to your herb garden won't hurt, especially since you can use them on various dishes as well.
Citronella
Citronella is the substance use as the main ingredient of many mosquito repellent products in the market today. It is proven effective to repel mosquitoes and protect you and your loved ones from them, especially when outside. Many products have this substance like mosquito repellant lotion, anti-mosquito bracelets and patches, and even citronella sticks. It masks the lactic acid scent that the human body gives off. One side note of citronella is that, while it is non-toxic to humans, there have been recorded allergy reactions when applied as a lotion.
Rosemary
Another humble yet effective spice to keep mosquitoes away is rosemary. When grilling, you can put a spring of rosemary to repel mosquitoes. Mosquitoes will stir clear of you and your barbecue, and you will have an additional flavor on your meat.
Lavender
While the plant is known to deter animals like rabbits and deer, it would better to turn them into lavender oil if you want to keep mosquitoes away. Lavender oil is effective against mosquitoes because of a compound called linalool. The strong scent of linalool is messing up mosquitoes' senses, making them dizzy and weak.
You can buy one from a local store, or you can also do it yourself. To make lavender oil, you need to use dried lavender flowers or leaves and put them in a pan. Cover with water and put it in low heat for a few hours, and making sure that the water does not evaporate. Take off the heat and strain. Once done, put it in a spray bottle.
Oregano
Yes, you heard that right. Oregano is not just for making your dishes flavorful. It is also effective as a mosquito repellent. The oil it produces has active ingredients like thymol and carvacrol. These ingredients are known to repel various insects like mosquitoes. You can make some oregano oil by mixing dried oregano leaves and oil on a bottle and leaving it for six weeks, with occasional shaking.
Trapping mosquitoes
Mosquitoes love to fly and buzz around. But did you know that you can trap them using water and soap? To do this, mix water and soap. Put the mixture on a plate overnight. You will see dead mosquitoes trapped in the solution in the morning. Mosquitoes are attracted to stagnant water and eventually get near it, especially females. Once they dip into the water, the soap mixture will trap them in, making their wings heavy.
Mosquitos hate Lemons and Cloves
Lemons and cloves are effective against mosquitoes because they hate the smell of citrus and cloves. To use it, slice a lemon in half and insert cloves into it. Arrange it on a plate and place them near your windows where mosquitoes can enter.
Home Cleanliness and maintaining it
Probably the most effective way to keep mosquitoes away and other pests are by cleaning your home and your backyard. As they say, cleanliness is next to godliness. Once mosquitoes are gone, it would be beneficial for you to maintain the cleanliness to make sure not to get unwanted visitors again, like mosquitoes.
Of course, you may opt to use insecticides to get rid of mosquitoes if you want instant results. Just note that insecticides have chemicals that are harmful to you and your family.