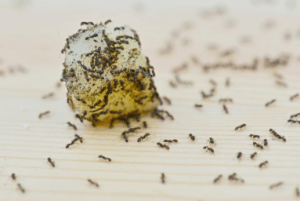 Ants have around 12 thousand species of ants in the world, but only a few live near the human population, causing damage to structures, electronics, and our lives. They may be small but can cause problems and damage to our garden and building structures. Here, we talk about the five different types of ant pests we encounter every day, where to find them and ways to treat them.
Quick Overview
Carpenter Ants
Carpenter ants get their name because they chew on wood but do not eat them like termites. They only chew on wood to build their nest inside. They prefer damp and decaying woods for their nest, and infestation would start from a decayed wooden pole from your house. One weird thing about carpenter ants is that they are clean creatures. They clean the tunnels they use and remove dead bodies of insects that they kill.
Carpenter ants are very painful. They release chemicals with their bite purposely to kill other insects. And even if the chemicals cannot kill a human being, being bitten by carpenter ants are still painful. It is best not to disturb them as they only bite on defense.
How to get rid of carpenter ants
A colony of carpenter ants is not that easy to remove. The population of these ants can reach up to 3000 with various extended colonies. Not only that, not all insecticides out there can kill them. If you have an infestation, look for products that can kill carpenter ants. Since ants live in colonies, baits are the best way to go. Worker ants bring back these baits and kill other ants and the queen.
Crazy Ants
The crazy ant is another species of ant that is known to have an erratic behavior; thus, the name. They are also known to like to build their nests near or inside electronic devices. And as if that is not crazy enough, they also bite into the wirings, causing piles of dead ants inside, which leads to short circuits and, in extreme cases, fire.
How to get rid of crazy ants
Since crazy ants build their nests inside electronic devices, it is tricky to get rid of them. Spraying insecticides directly into electronic devices can also get you electrocuted. For crazy ants, you should always use baits. Ant baits work since worker ants brings back the poison-laden feast to their nest, killing the queen in the process. If the nest is inside your electronic device like a computer, you need to wait for the bait to take effect before you can safely remove the nest from it. Call an electrician to remove the nest if it is in your main switch or inside the wall.
Red Fire Ants
The red imported fire ants originated in South America but have traveled far and wide across the globe. In the US, the red fire ants have gained pest status in the 1930s, infesting warmer states like Florida and Texas. They are aggressive and bite humans and animals alike. They are also invasive and build their nest underground.
Red ants can reach up to about three hundred thousand workers per colony. Even if they are small, they use their numbers to kill a small animal who is unlucky enough to step into their turf.
How to get rid of Red Fire Ants
Because of its popularity in the US, companies have created their insecticide with red fire ants in mind. You will see this as hundreds of ant killers have pictures of red ants in their products. You can use spray or pellet type of ant killers. But be careful as their bite stings. Red ants build their nests underground most of the time, but they can move inside your house during the rainy season.
Sugar Ants
Sugar ants, or odorous ants, give off a strong smell when squashed. As the name suggests, sugar ants are attracted to sweet food, honeydew from other insects, and nectar from plants. They are brown or black and are also not aggressive. Sugar ants build their nest inside your house, especially during the rainy season or winter, to keep warm. If outside, they stick to moist and damp areas like a decaying log. They do not bite but, but they can be a nuisance, especially if you have plants. These ants love eating the honeydew that mealybugs excrete. They, in turn, protect mealybugs from you. And since mealybugs eat your plant roots, your plant will suffer from the invasion and, when not treated, will eventually die.
How to get rid of Sugar Ants
You can get rid of sugar ants the way you get rid of fire ants. However, if you are indoors, you might want to go for an all-natural ant repellent instead of a chemically infused one. Cinnamon is a compound used to repel ants. Sprinkle finely ground cinnamon powder into the ant's trail and leave it for 2 to 3 days. You may also use peppermint spray. Peppermint is also effective in killing ants.
Black Ants
Black ants look like odorous ants but smaller. They are sometimes brownish, but most of them are pure black. They sting, but since they are too small, their stings have almost no impact at all. They are found outdoors in decaying logs or under a big stone. Indoors, they keep their nest near moisture and damp earth. You would see them under your sink sometimes.
How to get rid of Sugar Ants
Sugar ants are very active, and they like to move their nest from time to time. Since sugar ants move their nests, using insecticides cannot get all sugar ants in one go. If you use baits, you do not need to find their nest. Worker ants will do the work for you.
There are many ways to kill and get rid of ants. However, consider other lives around you too. If you have pets and children at home that could accidentally eat poison-laden baits, do not use them. Use a natural approach instead, like cinnamon, peppermint, and lemons.