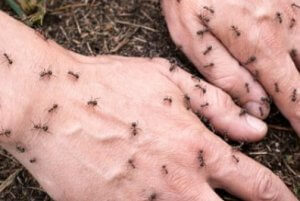 There are thousands of species of ants, and a handful of them are known to bite. Each bite is different. Some pinch your skin using their mandibles, and some inject venoms. But only female ants have stingers. Some species of ants are too small even to irritate humans. But those species of ants that bite are notorious for their sting.
One of the species of ants that bite is the red imported fire ants. But the term bite is incorrect when you are talking about red fire ants; they sting you. The female red fire ants have stingers. They pinch the skin then inject their venom via their stingers. After injecting the poison, you will feel pain immediately.
Overview
How long do ant bites last?
Ant bites last, depending on the species. In most cases, ant bites last a few days or even a week. Some ants do not even bite. However, red imported fire ants inject venom into your skin and leave blisters that could last more than a week. The term fire in the imported red fire ants is not just because of their coloring. It is because you will feel like your skin is on fire when they sting you.
There is also another species of ants called red ants that bites. It will also hurt, but not so much as the red imported fire ants. The bites from these ants could last a few days at most and do not develop blisters most of the time. However, it is also painful, so it is best not to disturb their territory if you can.
Why do ants bite itch?
Ants bite inches because of the venom they inject when they sting you. The pain is immediate and will cause irritation and itch after ant bites. The itching sensation you are experiencing is from the venom they inject. But ants with powerful mandibles, like carpenter ants, could also cause itching when they pinch you with it. Another type of Ant that bites are the crazy tawny ants. They do not have stingers, though, and their bite is not that painful and fades away quickly.
Red imported fire ants.
For red imported fire ants, once they inject their venom into your skin and the burning sensation fades, the itching will follow. Finally, their bites will leave angry red spots with a raised center with yellowish or white fluid. Red imported fire ant bites are notorious for being painful and fatal if you are allergic to them.
Red Harvester ants
Red harvester ants also sting, but they are not that aggressive compared to fire ants. Harvester ants also inject venom into the skin. The red harvester ants' bites are painful and also itch. But the sting from red harvester ants is not life-threatening and will typically last within 24 to 48 hours.
Carpenter ants
Carpenter ants' bites are painful, mainly because their jaws are powerful than other types of ants. But they only bite when provoked. The females also have stingers, but they do not contain venom like ref imported fire ants. However, since carpenter ants have powerful jaws, their bites are very painful.
Why do ants bite me more than others?
Ants bite people because ants found their presence a threat to their colony. Ants are very defensive creatures and will defend their territory at all costs, even if they have to protect it from humans that are too large for them. So, if you wonder why you are getting attacked by ants, you are probably stepping onto their nest.
There are no scientific studies to back up the claim that ants bite you because of your blood type or your sweet-smelling perfume. However, some people are more sensitive to ant bites than some. But it doesn't mean ants do not bite them.
Which ant bite hurts the most?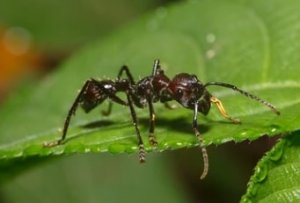 Although the red imported fire ants have an excruciating bite, the most painful ant bite is from bullet ants. And as the name implies, people have described the sting as though being shot. However, even though bullet ants hold the official title to have the most painful bites, it is not deadly. The good thing about it is that it has no lasting effect after 24 hours.
A honey bee sting has a rating of 2.0 on the Schmidt Pain Scale, while the bullet ant sting has a rating of 4+ and the scale itself is a four-point system. That means the sting from a bullet ant has exceeded the pain scale. Bullet ants are native in Central and South America, and they are currently not reported to have landed in North America yet.
Why do ants bite humans?
Typically, ants bite humans because they feel like they threaten to destroy their territories or fear for their lives. But some ants are aggressive and will bite you even if you are standing a few feet away from their colony. For example, the red imported fire ants are known to be aggressive.
Humans are too big for ants. In a way, ants sense that they are no match for humans. However, self-preservation will push them to bite humans in an attempt to defend themselves and their territories. So next time you step outside your house, look around you and see if there are ants' nests around.
What do ants do when they bite you?
There are two different ways on how ants bite you. It will depend on the species and gender, but most ants sting or bite. And both are painful and could cause irritation and swelling. While some ants are too small to cause you pain, some species are noteworthy when they do.
Carpenter Ants
Carpenter ants have mighty jaws that allow them to bite into wood and concrete, thus the name. And they also use their jaws to bite into humans when provoked. The good thing is carpenter ants are defensive creatures and will not bite unless threatened. But when they do, let's say it's not going to be a pleasant experience.
Red Harvester Ants
Red Harvester ants sting and do not bite. They also insert venom through their stingers which causes irritation, swelling, redness, and itching. However, they are more defensive and are reluctant to attack unless threatened. They are not very common now than before, but they are present, especially in the southwest.
Red Imported Fire Ants
Fire ants are one of the most popular ants that sting. They pinch the skin and inject the venom through their stingers. The burning sensation will start as soon as the poison enters your skin, and it will stay for a few hours. After that, you will notice blisters, redness, swelling, itchiness, and raised skin with a white center.
Can Ant bite kill you?
The definite answer to the question is yes. There are species of ants that are deadly for humans. Although not all ants are fatal and could hurt humans, certain ants made it to the top 20 most lethal bugs. Among them are the bulldog ants, red imported fire ants, and the red harvester ants. These ants have venom that could be fatal if you are allergic to it.
The bite itself is not deadly, but some people are sensitive to ant bites. About three percent of adults and less than one percent of children develop severe allergic reactions. But when allergic reactions occur, you need to seek immediate medical attention.
What does ant bite allergy look like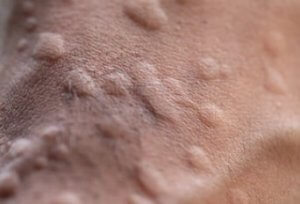 The allergic reaction of ant bites differs on the person's response or sensitivity. In most cases, ant bites produce mild allergic reactions only and do not need medical attention, but severe cases are fatal and could cause death if not treated as soon as possible. Here are some of the ant bite allergies that will look like
Pimple-like bumps
These are red bumps with a raised center containing white or yellowish liquid. It would look like a bee sting something. These bumps are itchy as well. These could last up to a week after they dried out.
Swelling
When the string is in the face, the bite area could swell. Although it is a bit scary, this type of swelling is normal and harmless. However, if you deal with fire ants, the swelling may be severe, and you need steroids.
Red around the bite area
Redness is the most common trait of an ant sting. The skin will be irritated because of the bite or the venom injected into your skin.
Sever reaction with Anaphylaxis
Although most ant bites are not life-threatening, an allergic reaction to ant bites called Anaphylaxis is fatal and would need medical attention. The main symptom if you have Anaphylaxis is if the ant bites have hives. The hives all over the face, difficulty in breathing, swollen face, and Anaphylaxis symptoms. Seek medical attention immediately if you have observed this.
How to treat ant bites?
There are many ways to treat ant bites. It, of course, will depend on the type and severity of the bite. However, cooling agents are often used to treat ant bites.
An ice pack or cool water
Use an ice pack or a bottle of cool water to avoid further swelling. Put the ice pack or bottle of cool water directly into the bite area.
Cooling Gels
You can also apply cooling gels like aloe vera directly onto the bite or sting area. Cooling gels will prevent it from swelling and redness.
Vinegar and Honey
Honey has properties that could combat bacteria and germs and is essential in fighting allergic reactions caused by the sting. To use, apply honey to the affected area, covering all the regions with redness and swelling. Leave it there for a few minutes to an hour.
If no honey is present, you may also apply vinegar to the affected area to get the same result. However, you need to dilute vinegar to the water as it may burn your skin because of too much acid.
Toothpaste
Toothpaste provides relief from swelling and redness. It also has a cooling relief. However, toothpaste has harsh chemicals that could harm your skin, so do not overdo it.
Cucumber
Cucumber is known for its cooling properties, and applying a slice of cucumber to the affected area will help soothe the blisters and burning sensation.
Are there poisonous ants?
Bullet ants, Fire ants, and Bulldog ants are the three most venomous ants out there. These ants have proven that even though they are small, they can threaten our lives.
Bullet Ants
Bullet Ants sting are excruciating and would feel like a bullet hits you, thus the name. The pain can last up to a total of twenty-four hours. In most cases, bullet ants are not deadly, but if these ants attack in a swarm, a person may die because of Anaphylaxis.
Red Imported Fire Ants
The red imported fire ants also have venom in their stingers. Although fatalities from the red imported fire ants are rare, more than 80 deaths are in the record so far, forty from the US. This number could rise as the red fire ants are still spreading in the US.
Bulldog ants
While the bullet ants hold the record of having the most painful sting, the bulldog ant holds the record of being the most dangerous Ant in the world. The bulldog ant got its name because of its aggressiveness. It will attack using both its jaw and stinger at the same time. It is dangerous because it will inject its venom repeatedly into its victim, killing an adult human within fifteen minutes. The last recorded case was a Victorian farmer in 1988.
What should you do after being bitten by Ant?
The first thing to do is dislodge any ants that you see in your body and clothing. Then, move from your position to a different one. Preferrable to a clear area where you are sure that there are no ants. Check for the damages and redness you see and feel all over your body. If possible, try to identify the type of Ant. Next, treat the redness and swelling using the home remedies above. If you are experiencing shortness of breath or your whole face is swelling, contact your doctor or a health expert immediately.