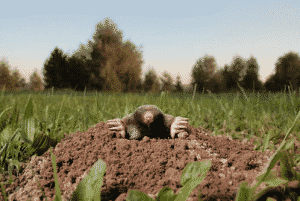 Garden planting has many benefits. From harvesting fresh and chemical-free vegetables and fruits to having beautiful and fragrant blooms that everyone in your family will love, garden planting has been a way to relax and enjoy while you are in your backyard. It is easy to feel at home when you are gardening. However, there are times where pests get into your garden and destroy your most prized and carefully cultivated plants and lands. Moles are notorious for destroying your garden. They create tunnels and molehills that are not so easy on the eyes.
Moles are a nuisance in your garden yard, whether planting veggies and fruits or flowery beds and shrubs. And almost every time, they uproot your plants killing them in the process, and leave your garden yard looking like a warzone. Not only that, the molehills they create are virtually damaging to your reputation as a gardener. And if you are reading this article, chances are you already have moles in your garden yard, and you want to get rid of them.
Most Frequently Asked Question about Moles
What exactly is a mole? A mole is a small furry mammal that has powerful arms designed for digging. They live underground and are rarely above ground. They dig underground tunnels so they can travel and capture their prey. Their diet consists of earthworms, slugs, and mealybugs. They affect your garden indirectly by creating tunnels that they use to trap their food. These tunnels are underground, and they uproot the seedlings you have worked so hard to plant.
Because they are hunting for earthworms and mealybugs, they usually dig around your garden plants where these insects are known to hang out. So, technically speaking, moles even positively contribute to your garden since they provide soil aeration and eat other pests like worms and slugs. But they also unwittingly kill your precious plants in the process and even leave those molehills that are just an eyesore. Here are some of the most frequently asked questions about moles that you need to know.
Overview
Signs of mole infestation?
There are many signs of a mole infestation. But having several molehills will confirm that you have a mole infestation. However, tunnel-like maps in your garden can be because of moles or voles. Later, you will see the difference between the two. Aside from that, here are the lists of the things you need to watch out for if you suspect you have a mole in your garden.
A row of dead plants or grass. Moles dig up tunnels underground right beneath your plants, uprooting them in the process. Once uprooted, most plants, including grass, die because the roots can no longer get water and nutrients from the soil
Mountainlike patches of earth. Molehills look like tiny volcanoes with openings. But sometimes, you will also see raised dirt without an opening.
The earth is softer and has a sinking feeling when you step into it. The soil below is already loose because of the tunnels created by moles, so it would be soft to the touch when you step into them.
What attracts moles?
Moles, like other animals, are attracted to your garden because of food and shelter. In the case of moles, they are in your garden because of their food source. And because they are looking for possible mates around the area. Moles travel from place to place looking for mates from February to May, and they search for soil rich in bugs and grubs that they can munch on. If your garden has plenty of these, then it is prone to a mole infestation. But having healthy, rich soil is excellent for planting, so you better prepare yourself in dealing with moles sooner or later. Good thing there are available ingredients that you can use to get rid of them.
What is the difference between moles and Voles?
Aside from moles, other creatures create tunnels and hills in your garden called voles. However, instead of eating grubs, slugs, and earthworms, voles eat the roots of your plants. Voles and moles both dig and do their business underground. Moles dig so they can trap their food into the tunnels, while voles dig tunnels so they can eat the root and root crops of your plants. However, the similarity ends there. Here are some of the differences moles and voles have so you can pinpoint which of them are attacking your garden.
Characteristics of Moles
Moles dig deep tunnels underground, creating holes in the soil so that it feels squishy and soft when you step into it.
Moles create hills because they remove the soil from their tunnels to create an air space.
Moles have powerful forelimbs that they use to dig their tunnels.
They have tiny ears and eyes and elongated mouths.
Diet consists of insects and slugs. They are meat lovers and do not care about plants.
Moles' fur is velvety soft and black.
Characteristics of Voles
Voles dig underground, but not deep. They only dig deep enough so they can get into the roots of the plants.
Voles leave a map-like impression in your garden.
Voles look like mice but smaller. They are social creatures, unlike moles that only socialize when they are looking for mates.
Voles have reddish fur and a small round body. They look like a more petite version of a mouse but with a rounded ear and head.
They love munching on the roots of trees, bulbs, and succulents. They are vegetarian and have their sight always in your garden because of the plants you have there.
Voles fur is brownish.
Home Remedies to Get Rid of Mole
Moles are very hard to catch, especially since they live underground. Not only that, they are nocturnal creatures that tend to do their business at night when you are fast asleep. Many pesticides can kill moles, but since they live underground, chances are they will die underground, and you cannot get rid of them. You do not want that to happen, especially if your garden is for the vegetation you plan to eat with your family.
Good thing there are home remedies that can get rid of moles without exposing your garden to toxic substances. These materials can be found at home and are proven effective against moles. In addition, you can find it readily available virtually anywhere. Compared to hiring pest control companies, these ingredients are way cheaper and still provide you with excellent results.
How to get rid of ground moles with Dawn Soap
Did you know that you can get rid of moles using a Dawn dishwashing liquid soap? Blend it with castor oil, and you will be able to get rid of those pesky rodents in your garden. What makes it effective is castor oil. Castor oil is toxic to moles, and they will not go anywhere that smells like castor oil. Dawn dishwashing soap and water dilutes the castor oil making it less harmful but more movable and can cover more grounds. The idea is not to kill moles but to drive them away. To create your solution, you're going to need the following:
Castor Oil (you can check out your local store for this)
Dawn dishwashing soap
Water
Spraying bottle
If you already have the ingredients listed below, let's make the solution.
Mix equal parts of dawn dishwashing soap and castor oil in a pail. Ideally, the more castor oil you put into the solution, the more it is toxic to moles.
Mix the ingredients thoroughly and add in the water. Mix it until all ingredients are combined equally.
Transfer the solution into spray bottles and spray the whole lawn. Pour it into the tunnels so moles cannot use them anymore.
How to get rid of ground moles with Apple Cider vinegar
Apple Cider Vinegar has many uses, and that includes getting rid of moles in your garden. How? It is still debatable whether moles do not like the scent of apple cider vinegar or it is because apple cider vinegar is known to get rid of bugs and grubs that mole eat. But whatever the case may be, apple cider vinegar is another ingredient that you should try to eliminate the pests in your yard.
For the solution, you'll need apple cider vinegar and water.
Mix one part of water and one part of apple cider vinegar.
Transfer to spraying can and spray all over your lawn.
Pour the solution directly into the mole tunnels.
Results vary depending on how big the infestation is, but you will see they lessen mole activity after a few days at most.
How to get rid of ground moles with Juicy Fruit gum
Juicy Fruit Gum is another cheap product that can be bought anywhere and is convenient against moles. Articles upon articles regarding Juicy Fruit Gums and moles have been circulating on the internet. And why not? If this product can get rid of moles without using pesticides, it will be a hit. But even if many articles are claiming that it is effective, many reports from pest control companies also claim it is just another internet myth. Whatever the case may be, we believe it is worth trying.
Juicy Fruit gum is effective against moles because moles think the gum is food, chew, and digests it, and that is where the magic happens. But, as it is gum, it is not meant to be swallowed. And moles will eventually get sick by eating the gum and die in the process.
How does it work exactly? Well, all you need to do is take the gum out of its wrapper and insert it into the mole tunnel opening. Put around two to three gums in each tunnel opening. You will see the moles' activity lessen in just a few days. It is still successful whether the gum kills moles or the moles have abandoned the tunnels because of human activity. Moles are gone on your property!
How to get rid of ground moles with marshmallows
Getting rid of moles with marshmallows is another head-turner, and you probably did a double-take on this one. I can't blame you, though, as there are fewer articles about using marshmallows to get rid of moles than Juicy Fruit gum. However, using marshmallows can be true, cheaper than pesticides and other chemicals and traps. Furthermore, it not only promises to get rid of moles, but it also kills them.
Factory-made marshmallows have ingredients like Carrageenan Tetrasodium Pyrophosphate, which acts as a thickening and emulsifying agent in the marshmallows. Recent studies show that carrageenan is associated with bloating and other digestive problems like inflammation, affecting humans and moles alike. At the same time, tetrasodium pyrophosphate is also a thickening agent with an adverse reaction to dirt and earth. But of course, not all factory-produced marshmallows have these ingredients, so if you would like to use marshmallows against moles, I suggest checking the label.
To use marshmallows, all you need to do is insert about two or three marshmallows inside the tunnels. Make sure you do this on both ends. The moles will have no choice but to eat it for them to remove it from the tunnels. The effect may vary, but you will see the impact generally after a few days.
How to humanely kill a mole
When you say humanely killing a mole, it means killing the animals without distress or suffering. That may mean killing it instantly and not slowly. Using methods that could distress moles is deemed inhumane. So that means killing moles using methods that can upset or let them suffer is a no-go. Here is a list of some of the ways you can kill moles humanely.
Mole traps kill moles instantly when trapped. The traps kill moles instantly because the teeth of the mole traps are closed so rapidly that moles will not know what kills them. There are many kinds of mole traps that you can use as well. But using mole traps that can instantly kill moles are considered humane.
Drowning moles by inserting jets of water inside their tunnels is still debatable whether it is humane or not. I would say it is inhumane as moles will suffer and feel distressed before getting killed. Another way to kill moles that are considered cruel is by using poison. Poison will kill moles but not instantly, and they would die an excruciating death.
How do we keep moles away without killing them?
Now, there are also ways to get rid of moles in your garden without killing them. However, they would wreak havoc on other properties instead. But if you are afraid that using the methods above will kill moles and you are all out against killing wild animals, you can use the technics below to get rid of moles.
Electrical mole repellent – many electrical mole repellents are available in stores. They divert moles' attention away from your yard. However, moles can go to your neighbors' yard instead.
Plants – Some plants are natural repellent to moles as they do not like the smell. The good thing about these plants is that it repels moles and at the same time it adds beauty to your garden. These plants are daffodils, marigold, lavender, and alliums.
Castor oil – moles do not like the smell of castor oil. You can use this together with different items like Dawn dishwashing soap to eliminate moles without killing them.
Live trapping – you can use traps that only ensnare moles but not kill them. However, it would be your responsibility to release the moles afterward. There are many laws concerning removing live wild animals like moles, though, and it would be best to check with your local officials and enforcers before using this.