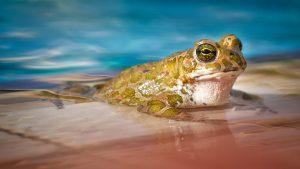 Swimming is fun, especially if you have your pool in your backyard that you can access anytime. But frogs and tadpoles can ruin the mood when you see them swimming and having fun in the pool before you even get there. You cannot blame them since they do not know the difference between ponds and pools.
But having frogs and tadpoles in your pool can give you problems like cleaning, skimming eggs, and disposing of dead frogs in the morning. Before matters escalate and you find yourself not even wanting to take a dip into the pool, here are some tips on how to keep frogs and tadpoles out of the pool.
Quick Overview
Install a fence around your pool
One of the best ways to keep your pool frog free is by installing a fence around it. The barrier needs to be at least 2 inches high so frogs cannot hop over it. However, installing a fence can take some time, not to mention a bit expensive.
Install a fountain or any water features
Frogs eat bugs, and bugs are attracted to stagnant water, and your pool has plenty of water. And where there are bugs, there would always be frogs. Aside from a fence, you can also install water features to keep your water flowing to discourage bugs from laying eggs on them. No bugs, no frogs. But installing a water feature on your pool can be costly and can take time as well. But on the bright side of things, it adds to the beauty of your pool and backyard.
Cover your pool
Probably one of the quick fixes you can do to keep frogs and tadpoles out of the pool is by using a pool cover. It creates a physical barrier between frogs and the pool water. Not only that, but it is also inexpensive. However, covering the pool does not stop the frogs from trying to get into the water. You still might see some of them above your pool cover when you wake up. The good thing is, they would not be able to lay eggs in the pool. And chasing a live frog out is always better than disposing of a dead one.
Mow your lawn
Tallgrass is the frogs' favorite hangout. And why not? It provides them cover, especially when frogs are hunting for food. One way to keep frogs and tadpoles out of the pool is by mowing the grass around it. It will not only look neat and clean, but it also provides added security since frogs cannot hide from it.
Offer assistance
If you do not mind allowing your hopping friends to take a dip into the water, you need to install a frog log into your pool. Frogs will always want to jump into the pool, but that does not mean they can get out of it. And once they are exhausted from swimming, they will drown, and you will have dead frogs to remove. You can install these ramps to help little animals like frogs get out of the water safely. No blood, no foul. However, frogs can still leave their eggs in the pool, and you will still have some skimming to do. You see, frog eggs need water to live as they are coated with jelly-like substances and need to stay wet for them to survive.
Keep your pool water warm
Frogs use their skin to absorb oxygen, and the cooler the water is, the more oxygen it has. You would not have any problem with the water during summer when it is hot, but you might want to get a solar pool cover during those cold weather. It will keep frogs out of the water and also heats the water for you. It is also great if you want to take a dip even when the weather is cold.
Alternative methods
Frogs are part of your echo system as they keep it insect-free for you. You want to keep them in your garden to keep bugs and other insects out of your home, but you want them out of the pool. Well, why not create one for them instead. And no, it is not going to be another pool for frogs, but a pond to call their own.
Pond for frogs
You can install a pond for frogs to swim on. Frogs are attracted to murky waters for a lot of reasons. It is their natural habitat. By providing them this alternative, you are sure to keep them out of your pool.
Egg relocation
A mature frog female lays eggs in the water as their eggs need water to survive. They are round and brown or black with a jelly-like coating. If you found frog eggs in your pool, you can relocate them into the pond you have created or put them in a small plastic kiddie pool.
Keeping frogs away with an organic solution
There are also times where you would need to resort to a more drastic measure as sometimes frogs cannot stay away from your pool. But you don't need chemical compounds because they are fatal to frogs. What you will need is an organic mixture instead.
Frog hates Vinegar
The acid in the vinegar will burn the frog's feet. Spray a healthy dose of vinegar around the pool so, it's like putting a big sign "Keep Out" for the frogs.
Citric Acid
You could also use different acids like Citric Acids or bleach. These solutions will make sure to keep the frogs out of the pool without killing them.
Always clean the pool
It is nice to take a dip in clean and crisp water. Not only it invites you to dive into it, but clean water also discourages frogs from also diving in with you. Frogs like to dive in murky and algae field water. If you have clean water, then they would hesitate to take the plunge.